This is
neo

F

rox

x

!

A short insight into the history of neoFroxx, described by our managing director Markus Frasch himself:

Dear customers and partners on all continents

after the sale of my first company in 2012 – AppliChem GmbH – I, Markus Frasch, remained Managing Director at PanReac AppliChem until the summer of 2013. My wife, Susanne Frasch, was head of the company's quality management. Some of you may have been in personal contact with us, most of you knew employees of this company or saw and got to know us at national and international trade fairs. Many of you will have used our products in your laboratories.

After we left, it quickly became obvious to us that we should continue to work in the same profession in order to make use of our experience and contacts with customers, trade partners and suppliers.

So we visited various trade fairs and were approached by HiMedia Laboratories and it's CEO Dr. Vishal Warke during the CPhI in October 2013: Susanne, good to see you again! What are you doing at the moment? Could you imagine setting up sales for HiMedia products in Germany and Europe?
Shortly afterwards, the sales and marketing manager Gilad Landes from Biological Industries (BI) in Israel contacted us with the goal of expanding BI's activities in Germany and taking over the exclusive representation of BI products.

This was the foundation of our new company neoFroxx GmbH as a supplier for the life science market. Susanne started with 2 former colleagues in spring 2014 in a small office near Darmstadt.
In addition to products for microbiology (HiMedia) and cell culture(Biological Industries), a separate line of chemicals and biochemicals was to complement the product range. It was very important for us to be able to assure our worldwide customers of a trustworthy cooperation with the same philosophy and flexibility as before.

With my entry into the company in 2015 and the entry of Wolfgang Sipos as Chairman (Strategic Purchasing), the further growth of the company could be organized.
In May, we moved into our own building with offices, warehouse and a production area – an important step towards establishing neoFroxx as a competitive supplier in the chemical and life science sector. In the same year, neoFroxx was successfully ISO-9001:2015 certified. Meanwhile, we are also ISO-14001:2015 and Green Climate certified.

And another important event took place in 2015: Wolfgang and I met the Švec family (founders of the family business PENTA) at a trade fair in Prague. The chemistry was right from the beginning and we initiated the first steps to a close cooperation in the future.

In short: neoFroxx is highly motivated and now does the same in GREEN that MAGENTA used to do. With many motivated and caring former employees, we work in a service-oriented and flexible way for old and new trade partners and customers! We put you at the center of our daily work, deliver only the best quality and cooperate with our partners on a personal and trusting level. Because many of our long-standing business partners were forgotten or disappointed on the way of the integration of AppliChem into the ITW Reagents Division, a niche opened up for us, which we were able to close quickly with our know-how and many years of experience.

Our success speaks for itself: within 6 years we have developed neoFroxx into a modern, future-oriented company with more than 30 employees. At our headquarters in Einhausen, we work on 1800 square meter of office, warehouse and production space. In addition, neoFroxx now has a branch in Singapore to better serve customers and distributors in Asia.

We are on a very good path – and we owe it to you, our old and new customers and partners!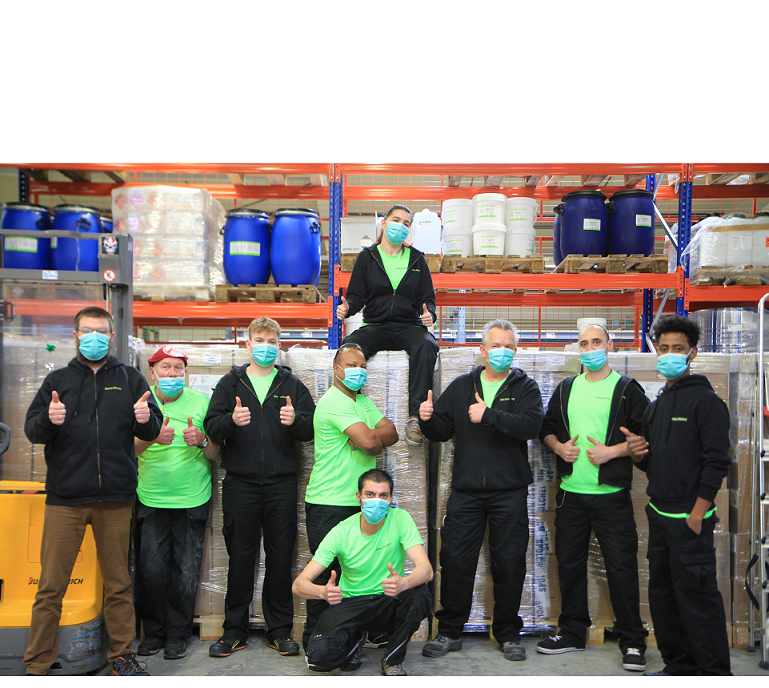 Our Team
We are friendly, supportive, motivated – and we know our stuff!
Most of our employees have been working in the field of chemical sales and production for a long time and their expertise is a significant contribution to the success of neoFroxx.
However, these "old hands" have one thing in common with their "new" colleagues: All neoFroxx employees – no matter how long they have been in the business – are open to new developments, new skills and new work methods.
In our fast-moving time, we have to retain this adaptability and also promote it; for example, through trainings and ongoing education. In doing so, we also benefit decisively from our internal exchange. As a team, we manage to handle the daily challenges without losing the fun in our work.
Even in times of social distancing, our team spirit has not been restricted in any way. On the contrary, we have found ways and means to further improve our professional cooperation in many areas of the company Since neoFroxx has always offered the possibility of doing office work from home, the Corona-related home office was not a major change for most employees. Nevertheless, we have made some investments in the area of online communication. In addition to new communication tools, all employees have access to the latest information and developments via the company's internal network. For work activities that require personal attendance (such as in production, logistics and IT), we currently work with FFP2 masks, a lot of distance and/or shift work in order to minimize the risk of infection.
Our Produt Lines
Yes, we do it ourselves! The founders and employees of neoFroxx are able to do more than just sell chemicals. From the very beginning it was important for neoFroxx not only to appear as a distributor of selected, already established brands, but also to bring our own product lines into the market. Because our own products enable us to achieve the level of flexibility and customer orientation that we desire. A new packaging size? A different packaging? With a bow? – No problem! When it comes to (bio-)chemicals from our own LaboChem and BioFroxx product lines, the customer really is king.
However, these own articles of the product categories laboratory chemicals and biochemicals can do more than just look good.
As a company, they enable us to offer laboratory- and biochemicals in accordance with our quality standards at competitive prices. Together with our customers we decide on the product range and constantly adapt this range to market requirements. Our laboratory chemicals category covers classic chemicals such as acids, salts, solvents, bases, etc., while the biochemicals product line is aimed at users from the life science sector. Biochemical products include biological buffers, protease inhibitors, chemicals for electrophoresis and western blotting, protein substrates, amino acids, fine chemicals for molecular biology and many more.
Our products
Biochemistry
Cell biology
Microbiology
Molecular Biology
Pharma quality
Lab chemistry