Biological Industries & Cytogenetics
Biological Industries operates strictly in line with its "Culture of Excellence" corporate culture and offers only comprehensively tested, rigorously proven products for use in human genetics. The range of products for cytogenetic diagnostics includes culture media for pre- and postnatal diagnostics as well as reagents for cell cycle control and karyotyping.
Product recommendations
Media for Prenataldiagnostics
BIO-AMF™-2 for rapid Amniocyte growth
BIO-AMF™-2 is a ready-to-use medium for primary culture of human amniotic fluid and chorionic villus cells. The medium is suitable for both open (5% CO2), and closed systems. BIO-AMF™-2 contains FBS, L-glutamine and gentamycin and is optimized for particularly rapid karyotyping in routine applications.
The advantages at a glance:
Easy handling (one-component medium; ready-to-use)
Fast growth rates and high viability
Reduced karyotyping time (8 days)
High mitotic index and good metaphase yield
Produced under cGMP
BIO-AMF™-2 is manufactured in compliance with cGMP. The production facility in Beit Haemek, Israel, is registered by the FDA and certified according to ISO 13485. Each batch is also tested for sterility, pH, osmolality and endotoxins.
Batch reservation is possible. To save the validation of individual batches that may be required, you can reserve up to 300 x 100 ml of a batch. Each batch has a shelf life of 24 months. Feel free to request a sample from us. The quality will certainly convince you!
For difficult samples and a higher metaphase yield we recommend BIOAMF™-3.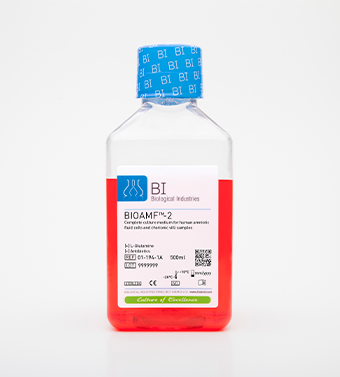 BIO-AMF™-3 for higher metaphase yields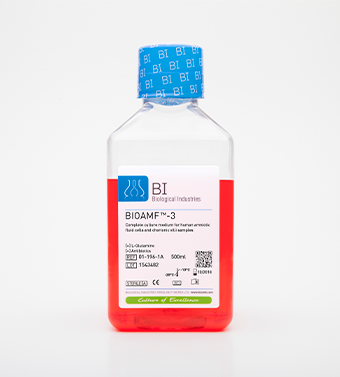 Like BIO-AMF™-2, BIO-AMF™-3 is a ready-to-use medium for primary culture of human amniotic fluid and chorionic villus cells. This medium is also suitable for open (5% CO2) and for closed systems. However, unlike BIO-AMF™-2, BIO-AMF™-3 is optimized for greater metaphase yield and is therefore suitable for difficult samples.
Media for Postnataldiagnostics
BIO-HEMATO™ Karyotyping Medium for Hematopoietic Cells
BIO-HEMATO™ is the first choice for short-term cultivation of hematopoietic cells (no lymphocytes!) from bone marrow and peripheral blood. Optimal for samples with low cell number or low mitotic index. With conditioned medium.
BIO-MARROW™ Karyotyping Medium for bone marrow cells
BIO-MARROW™ is a special medium for short-term cultivation of primary bone marrow cells. Without conditioned medium.
BIO-PB™ Karyotyping Medium for peripheral blood cells
Cell Cycle Control and Karyotyping
Cell Synchronization Kit for high-resolution karyograms
The Cell Synchronization Kit from Biological Industries optimizes the number of cells that are in the perfect harvest phase for karyotyping. MTX-based synchronization of individual cell cycles can significantly increase the number of prometaphase chromosomes. After G-banding, these chromosomes show excellent band resolution, which cannot be achieved in routine analysis. The kit is specifically designed for high resolution cytogenetic analysis.
The Cell Synchronization Kit contains ready-to-use solutions of methotrexate (MTX) and thymidine.
Other products for cell cycle control and karyotyping:
Phytohaemagglutinin M (PHA-M), Liquid (12-009-1)
Colcemid Solution (12-004-1)
Potassium Chloride Solution, 0.075M (12-005-1)
Sodium Citrate Solution, 0.8% (01-934-1)
Trypsin EDTA 10X Conc. (03-051-5)